Things get a bit more dreadful for the lefties...let's recap it all once again as the NFL season hits its midpoint.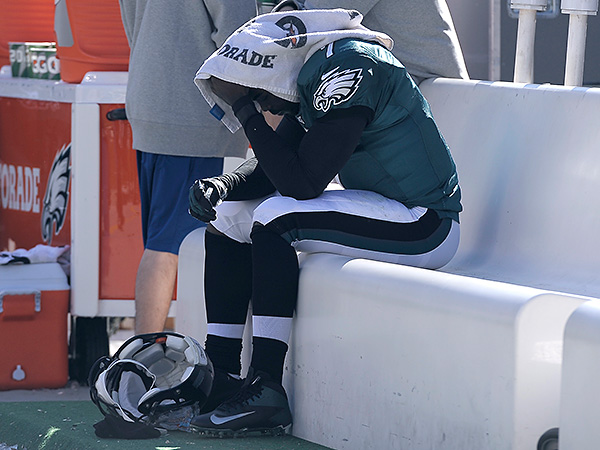 1. Michael Vick, Eagles (last time 1st)
Vick got the starting job and looked awesome in Weeks 1 and 2, leading the Eagles offense to 66 points on 631 yards passing with a 4:0 TD:INT ratio and 2 rushing touchdowns to boot. Then comes the bad part. Vick played less inspired in Weeks 3 and 4, was hurt during Week 5, sat out Weeks 6 and 7, and was hurt again in Week 8. He'll be out a bit longer, but his one saving grace is the fact that Nick Foles has looked awful as a starter and Matt Barkley has looked even worse, meaning they're likely just keeping Vick's seat warm for now.
2. Kellen Moore, Lions (last time 2nd)
Moore hasn't gotten any playing time, and that's just how the Lions hoped it'd be given how awesome Matthew Stafford is. So Moore's the 2nd best lefty based on the fact that he's the only other lefty with a roster spot.
3. Pat White, Redskins (last time 3rd)
It seemed White's spot in Washington was tenuous, and sure enough he was waived on September 14th to sign John Potter when starting kicker Kai Forbath got hurt. Forbath is back but White was not resigned. He is probably the lefty on the wire most likely to get a job at this point, and he has had tryouts with the Bills and Raiders recently.
4. Matt Leinart, FA, formerly Bills (last time 5th)
Leinart's awful showing with the Bills this preseason continues to haunt him, as GSNHOF favorite Thad Lewis is now backed up by UFA Jeff Tuel and castoff Matt Flynn there, meaning Leinart would've been a heavy favorite to start right now had he gotten up to speed faster (to be fair he had like two days to prepare for his worst game given when he was signed). That said he's still getting feelers, as the Rams tried him out alongside other veterans like David Carr and John Beck when Sam Bradford went down. The Rams signed Austin Davis and Brady Quinn instead, so Leinart remains a FA.
5. Tim Tebow, FA, formerly Patriots (last time 4th)
Leinart wasn't signed, but at least he's getting looks. Tebow's name was mentioned in connection with the Rams QB hunt initially, but then some higher up mentioned that the Tebow rumors were a joke and nothing real ever materialized. Might be time for Tebow to look to another league where he can build up his experience for NFL teams.
6. Sean Canfield, FA (last time 6th)
Just on here for sake of completeness...seems all but retired, whether chosen or otherwise.