I know Cincinnati is still Super Bowl-less, but man did they used to be so much worse than they are not. People crap on Andy Dalton a lot, and deservedly so, but what he's doing with the team now is incredible compared to the years of Akili Smith and company. Still, it's nice to look back and remember some of the guys who made those teams slightly watchable with cards like these.
As much publicity as he has had since then, you'd think Chad Johnson was a 1st round pick, but actually he wasn't chosen until the 2nd round in 2001. David Terrell, Koren Robinson, Rod Gardner, Santana Moss, Freddie Mitchell, and Reggie Wayne were all 1st rounders that year, and Quincy Morgan was also picked ahead of Chad Johnson. A lot of this probably had to do with his alma mater (Oregon State) and the fact he started college in community college, which is unfortunate because aside from the Colts (who picked Wayne) and the Panthers (who picked Steve Smith in the third round), Johnson has had the best career of that WR draft class.
It's weird to think Johnson was ever quiet, but over his first four seasons he actually didn't cause much of a scene despite three 1,000 yard seasons and two Pro Bowl nods. 2005 was when Johnson started to get kind of ridiculous, and while his stats stayed okay for a while (another four Pro Bowls in five years as well as two All Pro nominations), the drama became a bit much for Cincinnati, particularly when the stats dropped from 2008 to 2010. The Bengals traded Johnson to the Patriots for some late round draft picks, and Johnson was not able to grasp New England's complex system, resulting in career lows in receptions and yardage. After that he was released, and though he's tried out a few places since, off field issues and ability questions have kept Johnson from getting back onto the playing field since then.
That said, Johnson is still in the top 35 all time in receptions, yardage, and touchdowns. I'd be curious to see what kind of Hall of Fame support he got someday. I don't think his numbers are quite enough, and he never really saw any playoff action aside from his one year with the Patriots. But he was certainly a dominant force for the better part of a decade while with the Bengals.
Corey Dillon was covered
here
, as was Peter Warrick (who is on the backside of this card). Some of the doubles in this set are straight up weird. I wish there weren't doubles - after all Michael Basnight isn't in this set but he was a Bengal once! Or how about Ashley Ambrose?
Darnay Scott...man...there's a guy who brings me back. Most Bengals fans probably think of Carl Pickens as the team's best WR for the 90's and then Johnson as their best guy from 2001 forward, but in between Scott did his best as the WR2 option for the team. Scott was a 2nd round draft pick in 1994, but was actually the 30th overall pick (back then there were no Texans, Jaguars, or Panthers). It was a relatively weak WR class outside of Issac Bruce (drafted 33rd), and as a result Scott actually is 5th on the all time list in receiving yards, a few hundred behind HOFer Marshall Faulk. Scott was very consistent during his 7 seasons in Cincinnati, starting 12 games or more each season with 51+ catches and 797+ yards in every single year. 1999 was his best season, where in 16 starts he caught 68 balls for 1,022 yards and 7 touchdowns.
But even the silver linings need to come with caveats back in the Bungles days. Given Scott's 1999 success and some issues WR1 Carl Pickens had with management, Pickens was allowed to walk after the season and Scott was set to open 2000 as the team's WR1 for the first time in his career. Which would've been awesome, but Scott got hurt and missed the entire season. So instead, that season, the Bengals dynamic QB duo of Akili Smith and Scott Mitchell got 16 starts from Peter Warrick (and 592 yards) at WR1 and then a combined 9 starts from Craig Yeast, Danny Farmer, and Ron Dugans. The once explosive offensive was limited to mostly two tight end sets for much of the year, and while Corey Dillon had one of his best seasons as a result of the focus on the run game, the team won just 4 games and continued their losing ways. Scott came back in 2001 for another 819 yards on 57 receptions, but after the season the Bengals let him go and he finished out his career with a year in Dallas.
As I said above, Warrick was discussed in another post. So some other guys who could've been on this card? How about Danny Farmer? Or Kirk McMullen? Maybe Ligarius Jennings?*
Who wins the card?
In the first two time winner for this set, I have to go with Corey Dillon. Chad Johnson had quite the career and Darnay Scott tempted me a bit, but Dillon just did it all so well for so long - he's an easy choice here IMHO.
* So I googled Ligarius Jennings to see if he had any hits - after all I've never heard the name before this post. I found he played 18 games for the Bengals over two seasons, and he actually has a wealth of Google hits including:
- Jennings' signed Senior Bowl card.
Yours on Ebay
for a little over $4 shipped (this is the same seller who I bought my Seneca Senior Bowl card from.
- GSNHOF favorite Lamont Brightful eluding a Jennings tackle during a kick return
- Someone posted a picture of a Jennings game used jersey
- Someone else posted a Lions throwback jersey of Jennings, I guess he played with them for a bit at some point, though he obviously didn't get into any games since he has no stats with them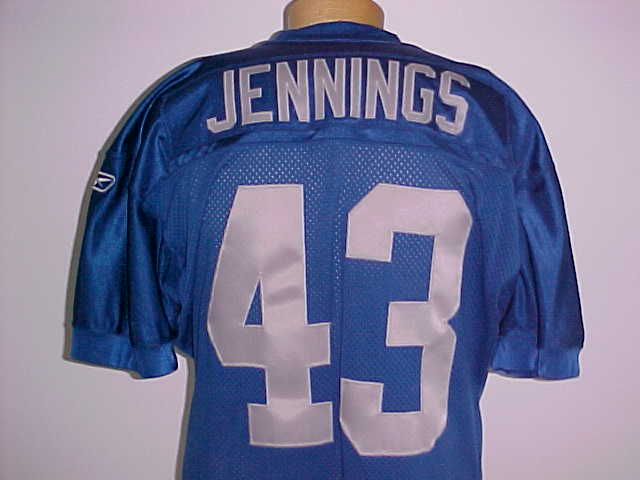 - And there's this photo of (I think) David Terrell running while being tackle by Jennings