Name:
Tim Hasselbeck
Example of Gordon on Cardboard:
Tim Hasselbeck has 119 cards to his name. This is his 2001 Pacific Crown Royale Autograph, #'d 500.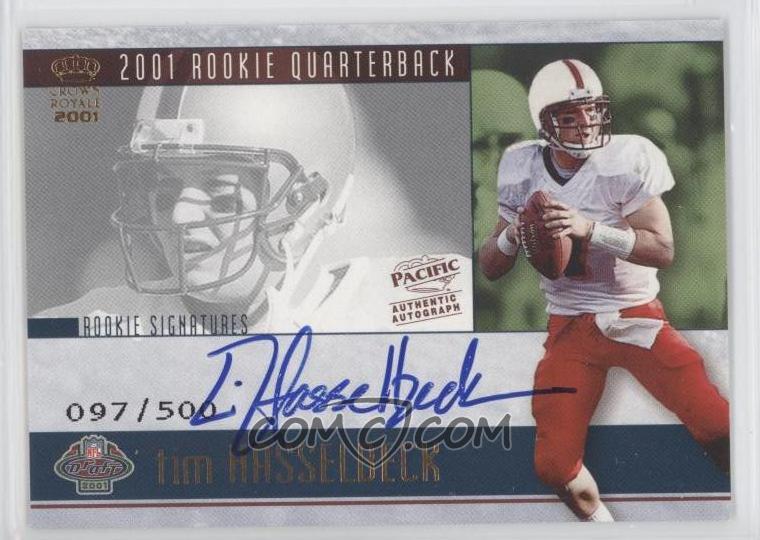 Video:
Here's a video of Matt Hasselbeck practicing in an empty stadium that is tagged Tim Hasselbeck. Yes, Matt is Tim's older brother. Ouch YouTube, ouch.
Team and Position on Depth Chart in Madden '04:
Hasselbeck is the worst rated QB in free agency (and the entire game) in Madden '04. He is rated a 37 (one of the game's worst ratings) and the next QB above him is Giovanni Carmazzi, who is a 38.
Some Notable Ratings:
Hasselbeck has no good ratings. His throw power is a 65 and throw accuracy is a 64. He also has a speed of 40, an awareness of 44, and a catch (should you dare to run a HB option) of 9. He is very difficult to run an offense with for sure.
Professional Career:
Hasselbeck played a decent quarterback at Boston College, but wasn't drafted. The Buffalo Bills signed him as an undrafted free agent in 2001, but he didn't do much for them and ended up matriculating to the 2002 Philadelphia Eagles. He played in 2 games there, but not in any more meaningful way than holding kicks. In 2003 he finally got his chance with the Washington Redskins, as Patrick Ramsey was hurt and they needed a starter. Hasselbeck started 5 games and went 1-4 as a starter. In his one win he had two touchdowns to zero interceptions against the New York Giants. The next week he was 6 for 23 with 4 interceptions with a 0.0 quarterback rating - a much truer assessment of his talent level.
That'd be the end of Hasselbeck's impact in the NFL. He was on the roster of Washington (2004), the Giants (2005-2006) and Arizona (2007) along with stops in Baltimore (2001) and the Panthers (2006) but his combined stats for all those stops were 3 carries for -4 yards (all kneeldowns at the end of games). Hasselbeck's 5 touchdown, 7 interception career doesn't seem like much to write home about, but he turned it into a marriage to reality star Elizabeth Filarski (of Survivor/The View, and who pretty much sucks) and a spot on ESPN...so good for him (at least on the ESPN part)
Why do I remember him?
His name was Tim and he was the worst QB in the game, so I often rostered him as my QB3. Much to my chagrin, I've never actually made him good. It's really hard...he can't run at all, and his accuracy and throw power are horrendous, so you really need to support him with an outstanding supporting cast. And even then he might progress from like a 40 to a 43 in year one. But it's worth the challenge.
Currently Hasselbeck is the QB for my St. Louis Rams franchise in my current Madden '04 incarnation. He was doing okay (a few touchdowns, no interceptions) but then he got hurt for like 6 weeks. C'mon Timmy...throw me a bone here!