So you may have noticed there was no buyer recap this week. That's because no new cards made their way into my possession (sad face). It's okay, this will happen a lot until my teaching paychecks start coming in in a few weeks. And even then they might happen a lot anyways since I collect such a small variety of cards.
BUT FRET NOT! THERE WILL ALWAYS BE A SELLER SUNDAY!
Cards Sold in the last week:
164
Total money earned from those sales:
$31.59
Profit made on those sales (sale cost-initial cost of purchase):
$5.30
Most Recent Sale:
1991 X-Force #60 Deadpool, bought for 23 cents, sold for 16 cents (really sold as part of a 45 card lot where I profited...but when you sell 45 cards at once COMC sets all cards at a certain price based on overall discount).
Cards bought in the last week:
121
Total price paid for those cards:
36.80
Total net credit for the week (Total money earned - Total price paid):
-$5.21
Net Credit since I began this blog segment:
$13.78
So this is the first week of this COMC Weekly thing where I go negative. I'm not really all that concerned about it, especially because I know I grabbed some great stuff this week that might take a little longer to sell, but which will definitely move in time at a bigger profit! Gotta spend money to make money and all that jazz yadda yadda yadda...
I also bought a ton of cards for resale this week at nice prices. My favorite actually occurred this morning, as seller
Ooosh
(a Blowout Forums legend) put her cards for sale without having a sale. When I say that, I mean she drastically cut her prices on everything to the point that it acted like a sale. The only way to really find these sales is to check COMC's inventory by lowest price and find a card lower than 9 cents (anything 8 cents and under typically gets bought within the hour). I noticed a bunch of 5 cent cards and that led me to Ooosh and some quick profits, as well as some cool stuff like a few nice autos for under $1.
I've found like 3 or 4 of those sales before, and they're always nice. I got some $4 cards for 15 cents, grabbed an Andre Johnson jersey card for a quarter - stuff like that. So if you see some really cheap/sub 9 cent cards, never be afraid to go into the seller's port and see what they have priced a little higher. You might just find some crazy deals!
Best Sales of the Week
3rd most profit:
This month's third most profitable sale came on a Bob Gibson Sepia card /525 that I sold to a flipper. I bought it originally for 23 cents, and he bought it for 38 from me. So a grand total profit of
15 cents
.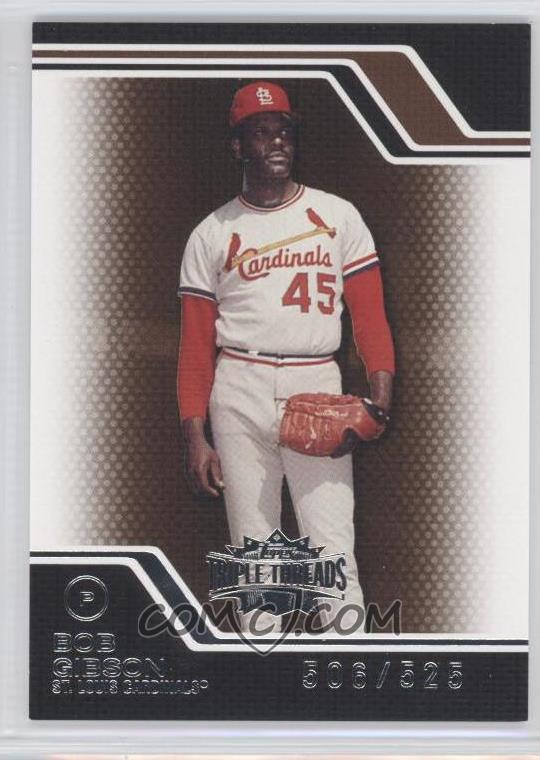 2nd most profit:
The next card was also sold to a flipper, who I may have a good thing going with in the future. He bought this card from me for 30 cents, and when I thanked him for buying it on Blowout, he messaged back saying he would always snatch up "cards like this." By "cards like this," he meant cards with a ton of profit room - so like this one I grabbed at 13 cents and listed at 30, but the next lowest price on the site was like $1.50. So I make a little profit (specifically
17 cents
here), he has potential for much more. Works for me!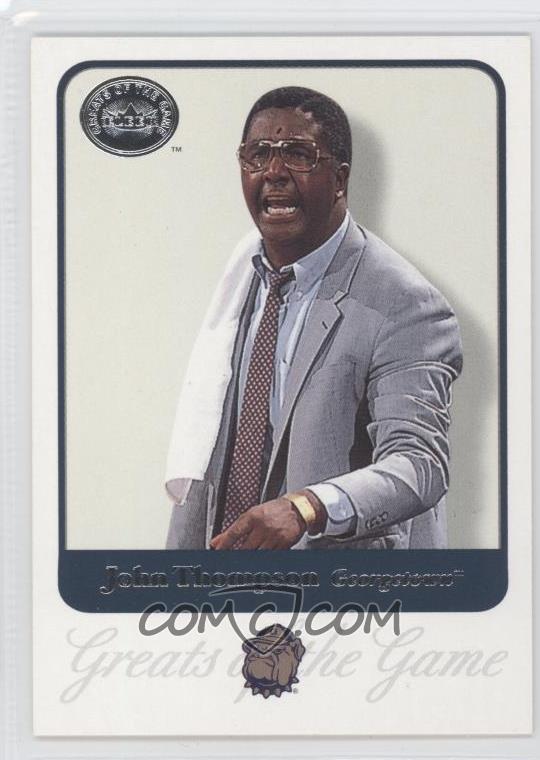 Most profit made on a single card:
My best sale went to a non-flipper, as they tend to. I mentioned last week that I was high on Corey Kluber and that I bought up a few of his cards on the cheap. Well this week I sold, surprisingly, his Topps Update 2013 base card, at 72 cents. I bought it for just 17 cents, so that's a swell little
55 cent
flip!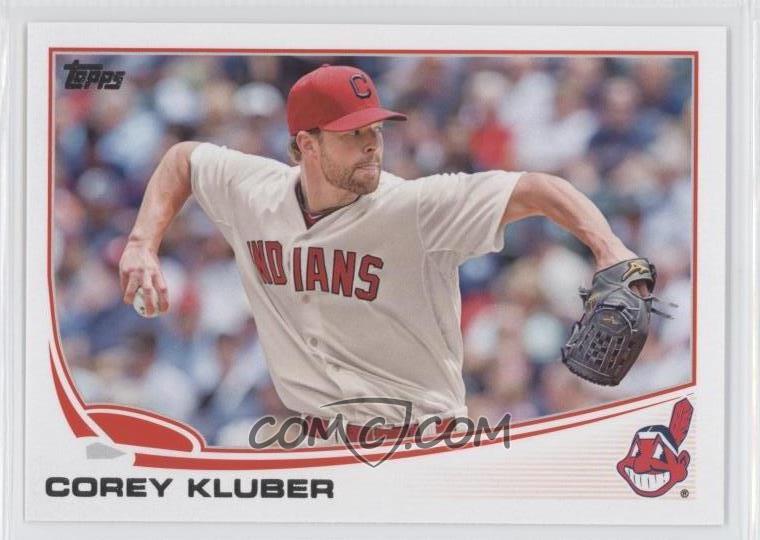 How did last week's focus cards do?
Last week I mentioned a Josh Reddick Autograph, a Marvin Harrison Parallel, and a Solomon Bates Patch/Auto, all of which I still own. I also mentioned Kluber's blue parallel of the Update card and in passing mentioned the base) so if you count that I sold one of those cards!

I'm also still sitting on the Colin Moran and Eduardo Rodriguez autos from two weeks ago. Moran is doing quite nicely in AA for the Astros, while Rodriguez has a 1.04 ERA in 3 starts for Boston's AA Portland Sea Dogs. So I think their hype can build up and get those cards sold, which was the plan all along.
Focus cards for this week
I know the jerseys/relics from 2001 Topps XFL can be kind of hard to come by, so when I saw this Scott Milanovich football piece in a sale, I had to grab it. I repriced it to $4, which is the cheapest of any XFL relic on the site:
I also had to grab this Ricky Stanzi manufactured auto. I know he's a backup (for the Jags of all teams) who might not even make the roster, but he has somewhat of a college following and this is actually the parallel auto /299 (the base version is a black helmet). So I grabbed it and mine is currently priced at $14 (next highest on site is $29.55).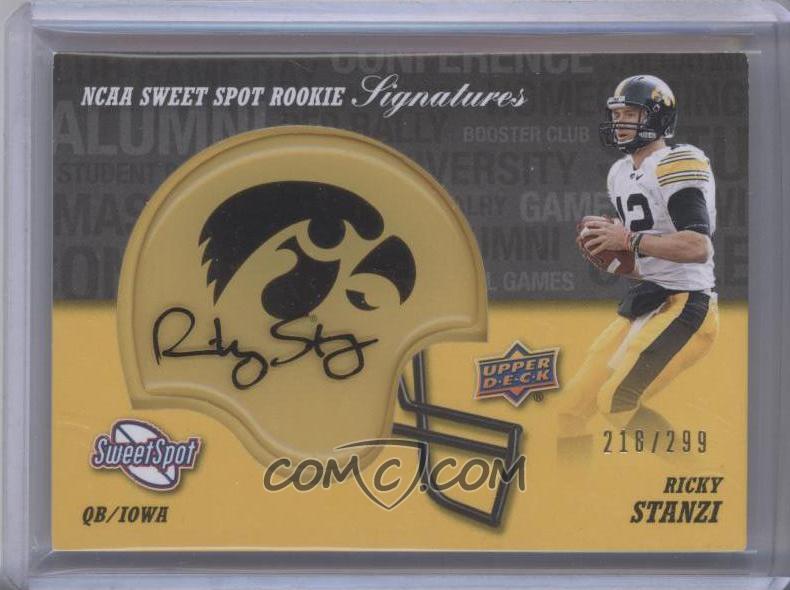 Finally we get to my biggest purchase price-wise...a Doug Martin Sage Next Auto. If he can bounce back this year, this card should sell VERY well, considering it's #'d out of 10. I'm envisioning an Amazon sale with this one, and currently have it priced at $30: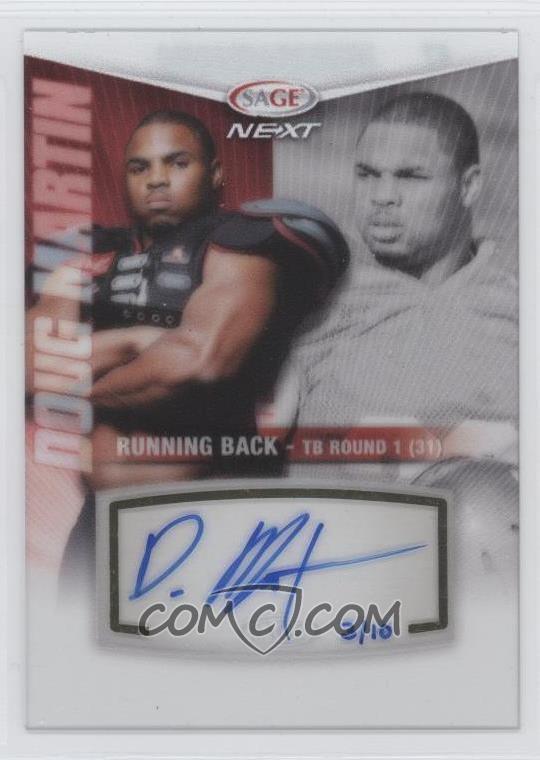 COMC Overall Stats
Current Cards for Sale:
208 total, 171 distinct
Total Asking Price: $296.60
Total SRP (their version of Book Value): $617.25 (130 cards still need to be priced)
August 2014 Sales: 317 cards for $77.57
2014 in general: 2,642 cards for $805.38