Name:
Clarence Love
Example of Love on Cardboard:
Clarence Love has ZERO cards to his name. He is however on a Chad Johnson card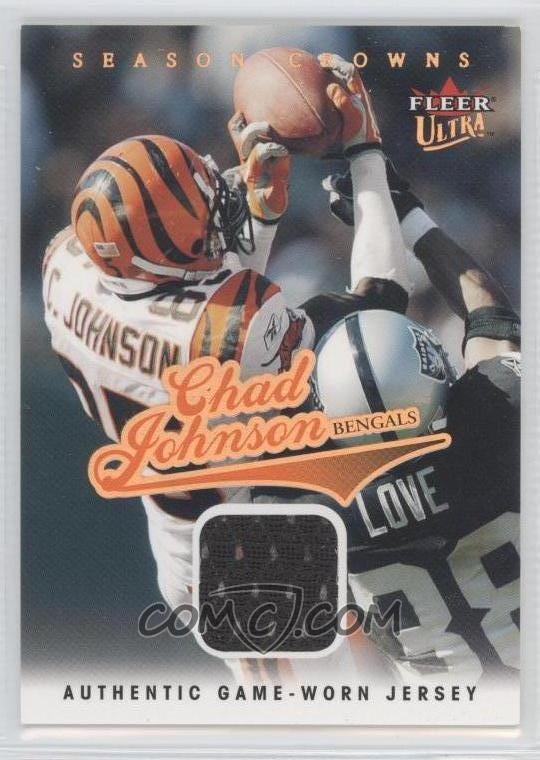 And back in the day Condition: Poor made some awesome customs of him for me
Video:
I couldn't find any videos of Clarence Love, but he is on LinkedIn - so that's cool! I also found a short interview done with him
here
.
Team and Position on Depth Chart in Madden '04:
Love is a 27 year old CB on the Oakland Raiders in Madden '04. He is slotted in as their dime back (4th CB) behind Charles Woodson (94), Phillip Buchanon (82), Terrence Shaw (75). The Raiders also carry CB #29 (70), who would presumably be Nnamdi Asomuqha, the Raiders first round pick that year, before he signed with the NFLPA. I never realized it was him before...that's pretty awesome that he was in Madden '04!
Some rookies are named from the draft (Seneca Wallace is one for example) but others who didn't sign in time are always denoted by position and number (well a guessed number - Asomuqha actually wore 21 to start) instead. But this is definitely Asomuqha, as 70 is a really good score for a rookie CB but would make sense for a 1st round rookie.
Some Notable Ratings:
Love has a few good ratings, most notably an 81 acceleration, 56 catch, and a 76 jump, making him able to go up for high throws to knock them down. He also has a decent 53 score for tackle, which isn't great but means he won't whiff most of the time.
Love's big deficits are in speed (an 84, which is a bit on the slow side), awareness (64), and agility (77). This meant that double moves could beat him pretty easily, and if the WR had speed it was tough for Love to catch up.
Professional Career:
Love was the 116th pick (4th round) of the 1998 NFL Draft by the Philadelphia Eagles. They drafted him as a safety out of the University of Toledo, presumably to replace Mike Zordich down the line since he was a 35 year old SS in 1998. Zordich did retire after the season (despite starting all 16 games; Love played 6 as a backup with 2 tackles), but instead of Love the Eagles turned to journeyman Tim Hauck to play SS. The then 33 year old Hauck started 15 games for the Eagles in 1999, ending the year with 60 tackles and an interception.
Love was on the Jaguars for a heartbeat, but they cut him before the 1999 season started. That was to the Ravens gain though, as they added Love and stashed him behind starters Rod Woodson (34) and Kim Herring (24). Love saw no game action in 1999 and only played in one game in 2000, but he did win a Super Bowl ring for being part of that 2000 Ravens team. He also won a World Bowl ring as part of the 1999 Frankfurt Galaxy after the Ravens designated him to that squad. After the 2000 season the Ravens cut him, and Love was once again in free agency looking for a squad.
The Oakland Raiders snatched him up within weeks, and Love would spend the next four years (2001-2004) with the Raiders with various degrees of success. He has no NFL stats for 2001 or 2004, but in 2002, after the departure of SS Marquez Pope, Love saw three starts at SS as one of several guys the Raiders looked to at the position. In the regular season Love racked up 17 tackles, but in the playoffs he didn't show up on the stat sheet. He did play though, including in the Super Bowl, and though the Buccaneers shredded the Raiders passing defense (which doesn't bode well for Love or fellow SS Anthony Dorsett), Love was on the field when the Raiders blocked a punt, and so he shows up in this picture (he's #38, on the left):
The following year Love played in a career high 13 games, but with only six tackles and one pass defended. He then suffered a knee injury would put him on the IR in 2004 and led to an injury settlement and his release from the Raiders. That would end Love's NFL career.
Why do I remember him?
Did any of you guys watch the show Crank Yankers? It first debuted in 2002, and was that Jimmy Kimmel/Adam Carolla show where they made prank phone calls and then had puppets act them out.
I was 16 at the time and in prime prank phone call phase, so I loved the show. One of my favorite guys on the show was the Tracy Morgan voiced "Spoonie Luv"
who made all sorts of ridiculous phone calls, including this one where he orders some roses
Anyways, he often referred to himself as "Spoonie Luv from up above." So when we got Madden '04 a year or so later and I found Clarence Love, he instantly became a favorite, and I referred to him as Clarence Love (from up above).
I generally used him as a dime back (like the Raiders did), as his lack of skills kind of help him back from starting or even playing nickel back, and he was too slow/had too low tackling to play out of position at safety. But I did that a lot, and also threw him on my kick coverage and kick blocking teams where he had some success. Over time if/when he leveled up (usually he would as dime backs can grab a few interceptions and those help you level up a lot) I'd move him up to nickel back, but that's about as far as he would ever get. Still, I pick him basically every time I ever play. Even if as the fifth CB who only plays on special teams - he was just always too awesome to me since I made that Crank Yankers connection.