Now that I have a target date from my last COMC post, I can note how I've done saleswise in the past 7 days. I thought this would be fun to track, so I'll add some weekly stats to these posts now too! We'll see how it changes especially when I can't buy as much come the school year.
COMC Weekly Stats
Cards Sold in the last week: 137
Total money earned from those sales: $43.78
Profit made on those sales (sale cost-initial cost of purchase): $9.23
Most Recent Sale: 1990 Post Mark McGwire, bought for 10 cents, sold for 23 cents
Cards bought in the last week: 82
Total price paid for those cards: 24.79
Total net credit for the week (Total money earned - Total price paid):
$18.99
So not a bad little week at all. Around 80 of those sales came from one flipper I ran into through Blowout. I had noticed he would buy cards of mine every now and then to flip, so I sent him (and a few other guys) a message saying I dropped some prices and they were welcome to buy some flips if they wanted. A few guys nibbled, but this one guy just went in and bought everything that seemingly wasn't nailed down, including most all of my Tom Glavines. And all it took was me sending a message of "Hey, feel free to buy my stuff."
Best Sales of the Week
3rd most profit:
My third most profitable sale of the week came, once again, thanks to some self-promotion. I mentioned on COMC that I was auto-accepting 50% off any half off offers, and someone sent me one for my Chris Roberson auto /1200. I bought it for 38 cents, they bought it for 83 cents, meaning I made a
$0.43 profit
.
2nd most profit:
My 2nd most profitable card of the week came thanks to some ingenuity and Amazon. On COMC you have the option to also list your cards on Amazon, though Amazon then gets a 20% cut of your sale price. I have the option selected and I see a lot of cards sell there for great prices. Well I recently bought three Jake Arrieta cards on the site that seemed really cheap. It was his 2007 Tristar card, and I spent $0.69 for all three cards. I re-priced them all in the $1.10-$1.20 range.
Well someone on Amazon, likely loving his Cubs success, bought one. My end sales price was $1 after the percentage, so I netted a profit of $0.77 on the Arrieta.
Most profit made on a single card:
My best flip of the week was actually sold right after I posted my first Seller Recap. I bought up a Justin Smith PressPass auto a while back, because it was only $1.58 which seemed crazy cheap for the autograph of an occasional All-Pro. I had it listed North of $5, but a guy offered me $2.75, and I accepted. That brought me a profit of
$1.17
, easily the best single card profit of the week!
How did last week's focus cards do?
Last week I mentioned a few cards that I bought to flip, including two trade deadline related autographs (Colin Moran and Eduardo Rodriguez) along with two distinct (four cards total) Thaddeus Lewis autographs. All six of those cards are still in my possession, so a week out this flip hasn't gained me any extra coin. There's plenty of time for that to change!
Focus cards for this week
I was actually having a pretty quiet buying week until I noticed a sale from
jmash24
on Friday night. It was something like 80% off and the cards were CHEAP! I ended up buying 26 cards from him in a little over 10 minutes, most of which was small, but which also included the two cards below that I really liked:
This Josh Reddick Auto was stupid cheap, and has previously sold as high as $35. I have it listed at $20 right now.
This really beautiful Marvin Harrison "New Age" insert just was too cool not to get, even if Mr. Harrison doesn't sell too well typically. This set does okay on Ebay though, so I have mine listed at $4.50.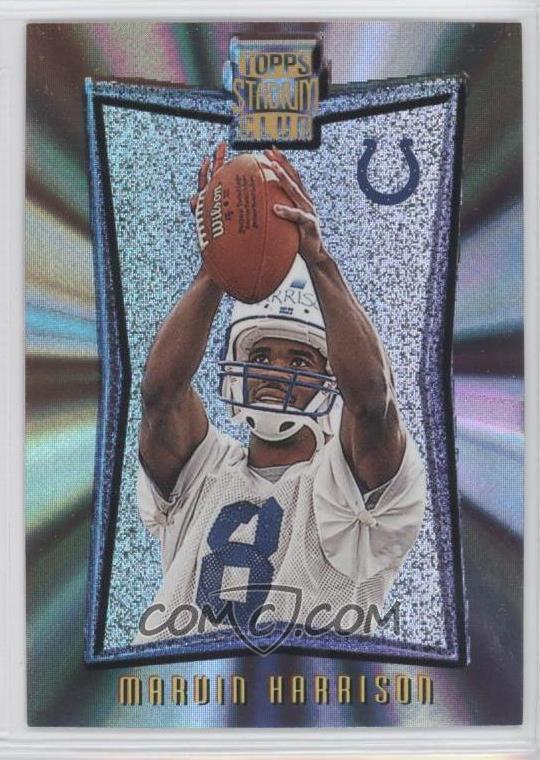 I also grabbed a few cards that I previously sold in a port sale (lol). A fellow Blowout user bought my entire port (twice actually), and in the port were some Corey Kluber cards, as I love his rise to excellence and think he should sell better than he does. The guy got a little restless with his current port and drastically dropped prices, so I re-grabbed his 2013 Topps Update Blue Parallel (along with a 2014 Topps Gold and an Update base) and listed it at $1.20 for now:
My final focus card this week is me taking a (semi-) plunge into non-MLB prospecting. I found a sale that had a 2012 Panini USA baseball two-color patch/autograph /35 of Solomon Bates for fairly cheap. I took a peak at his stats and the guy, although he's still in high school, looks to have some real dynamite stuff. So I figured it was worth the gamble and dropped a few bucks on him. It's now listed at $20 and we'll see if he can gain some hype and gain me some profit!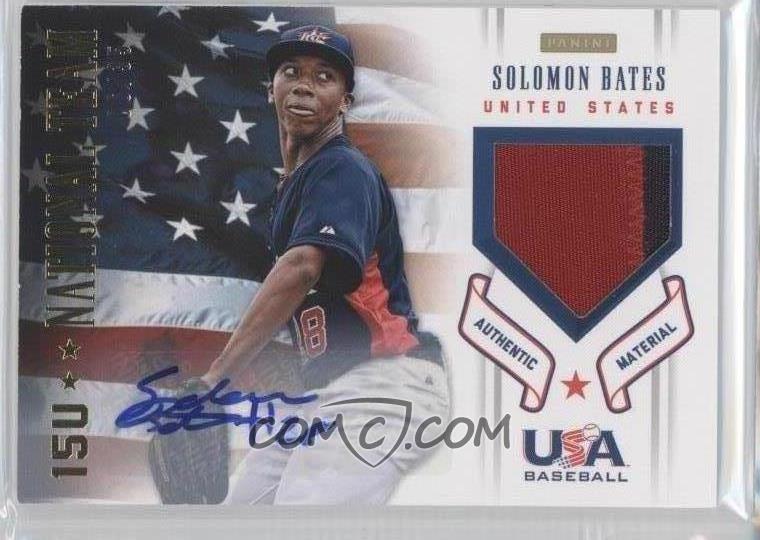 That'll do it for this week's seller recap! As usual I'll leave you with the net sales for the year - when there are EBay or other sales to recap I'll throw those down here as well.
COMC Overall Stats
Current Cards for Sale: 254 total, 207 distinct
Total Asking Price: 282.64
Total SRP (their version of Book Value): 624.25 (with 162 cards yet to price)
August 2014 Sales: 146 items for $45.99
2014 in general: 2,471 items for $773.80