Name:
Darrien Gordon
Example of Gordon on Cardboard:
Darrien Gordon has 144 cards to his name, including two autographs. This is his 1995 Skybox Impact #156: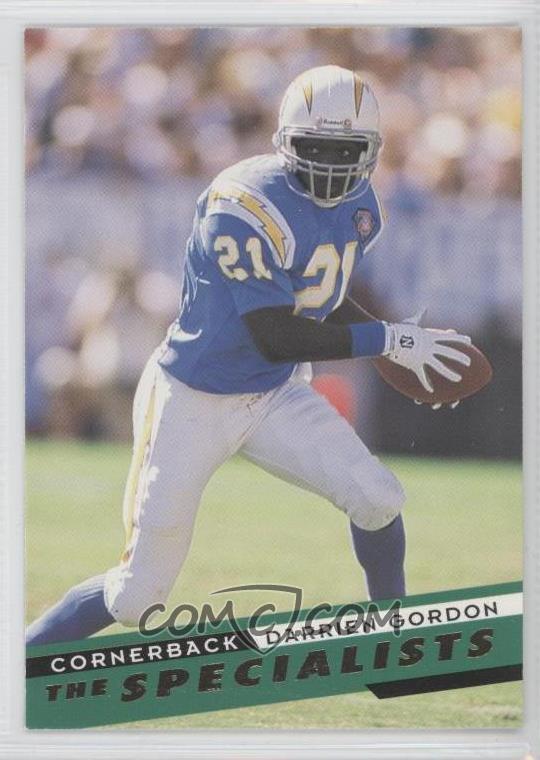 Video:
Here's a video recap of the 1993 Blockbuster Bowl between Penn State and Stanford. Stanford won 24-3, largely because game MVP Darrien Gordon shut down Penn State WR O.J. McDuffie.
Team and Position on Depth Chart in Madden '04:
Gordon is a Free Agent in Madden '04, and is the 13th best CB listed. The best CB is Todd Lyght, ranked an 83, while Gordon is sandwiched between Robert Bean (63) and Paul Miranda (60).
Some Notable Ratings:
Gordon is ranked a 63 at age 32, which makes him about the level of a dime back CB. Some of his best skills include speed (90), agility (84), acceleration (86), kick return (90), and catch (61, which is good for a CB). Some of his lacking areas include awareness (52) and tackle (40), which are both really poor.
Professional Career:
After that impressive Bowl performance, Gordon leaped into the 1st round of the 1993 draft and was selected 22nd by the Chargers. He was the 3rd DB picked after Patrick Bates (who?) and Tom Carter, and immediately became a Patrick Peterson like force for the Chargers. Gordon had seven interceptions in his three years in San Diego, but his real skill was returning punts - he also had three touchdowns on punt returns in those years and averaged around 13 yards per return (he did not return kicks). He helped the Chargers get to Super Bowl XXIX, his first of four Super Bowls in the NFL (2-2 record overall).
In 1997 Gordon moved to the Denver Broncos, and he was just what the team needed as they won Super Bowls XXXII and XXXIII in Gordon's two years with the team. He had a combined 8 interceptions, 4 forced fumbles, and 3 punt return touchdowns in those two years. Gordon also was crazy ridiculous in the 1998 playoffs. In the AFC title game he intercepted Vinny Testeverde twice and had a huge punt return. Then in the Super Bowl he intercepted Chris Chandler twice and set an all time record for interception yards in a Super Bowl. Gordon was certainly one of the league's top game changers at this point.
In 1999 Gordon went over to the Oakland Raiders, and for whatever reason his star never shone as bright from there on out (I blame the Oakland effect). He started just 2 games over two years in Oakland, though he did have three interceptions in his first season. By year two he was less of a force though, and he was averaging less than nine yards per punt return, a career low. Gordon then spent a year in Atlanta, most of a year in Green Bay, and then was signed very late season by the Raiders (we're talking like week 17) as they made their way to the Super Bowl against the Buccaneers. Gordon sat out most of the playoffs, but in the Super Bowl he returned three punts for 9.7 yards per return. After the game Gordon retired from the NFL, ending his nine year career.
Why do I remember him?
Somewhere along the line Madden started putting dreadlocks in their game as a hair option. I don't know if Madden '04 was the first, but it was around that time when dreadlocks became big in the NFL, and I thought they were cool. So guys with dreads, like Gordon, always made it onto my early teams. I'd even change the hairstyles of non-dreadlocked players, so in the end like 80% of my teams would be wearing dreadlocks. Weird, wacky, wild stuff.
Gordon started out as a dreads guy, but I came to use him a ton on my teams because he was a pretty good returner (any guys with 90+ speed with good agility and acceleration typically are) and he also made a fantastic CB4. Unless you have a superstar team of four fantastic corners, the 4th CB on a team tended to be some mid 60's guy with 80-84 speed. And that's generally fine, but when the other team played a 4-5 WR set and their 95 speed WR went up against your 82 speed DB, that was like an instant TD for the computer. Well not with Gordon as a CB4...he had the speed to keep up, and the great hands to get interceptions against lesser WR. So even though in real life Gordon was retired, I had a lot of seasons where Gordon acted as my dime (or even nickel) back with 4-5 interceptions a season. I've drifted away from using him lately as I fell in love with different returners, but he's still a guy I'll always add and trade to a computer team at the beginning of franchise mode, because he definitely always deserves to be rostered.