Have any of you ever drafted an all-awful team? It's actually pretty tough - like with a regular draft, you run out of talent fast, just in the reverse. WRs like Greg Little and Darius Heyward-Bey fall off the board early, as do RBs like Andre Brown and Rashard Mendenhall. Jake Locker is a first round pick. It's a weird, bizarro world.
Anyways, on the Blowout Forums recently we verbally (well, in the comments) drafted such a league. The requirement was that you needed to draft a QB, two RB, three WR, and a TE, and that they all had to have started eight games last year (three guys drafted didn't start eight games...but the commissioner okayed it). We originally had larger rosters, but a lot of guys had trouble making their picks, so we cut the draft short. But the teams are all fairly awful, and it was a fun little one off exercise that we voted on after we finished.
My team, which I think will easily compete for the championship of worst team, is as follows:
QB: Terrelle Pryor (Backup in Seattle who may not even make the team)
RBs: Bilal Powell (Jets backup) and Trent Richardson (Colts starter, but wow was he awful last year)
WRs: Santonio Holmes (Free agent), Denarius Moore (Currently 5th on the Raider WR depth chart), and Cecil Shorts III (In a relatively poor offense, and was 2nd in the NFL in dropped passes last year)
TE: Craig Stevens (purely a blocking tight end who caught 2 passes for 5 yards last year).
I think my team could really dominate! Either way I'll let you guys know how things progress!
In other news, my attempt at my playoffs in my baseball league is doing...okay. Last week I won, but when I pitched Sonny Gray I figured he'd be like this:
Instead he was all like: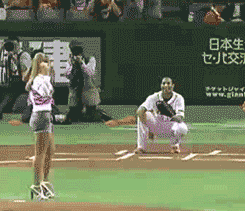 When the dust settled in Tampa, Gray had 4.1 innings pitched with 10 hits allowed, one homer, four walks, and a hit batsmen. In my league that's good for -15.2 points, and since I typically expect like 30 points out of Sonny, it was a 45 point swing...which isn't good when you're scramblin' for the last playoff spot.
Luckily my other pitchers pitched well, and my opponent got a -33.7 game from John Lackey (Lackey gave up three homers...homers cost you a lot in my league) and so I beat him by about 80 points. The division leader won and remains one game ahead of me, the guy who was tied with him lost and is now tied with me, each of us being 8-10. I need to keep winning, so let's hope my guys can finally pull it together and stay consistent!


Finishing this thing off, I'll mention that, very happily, my football league now has 12 teams!
I originally got stuck at 9, so I cut it to 10. Then I was still stuck at 9, so I cut it to 8. My wife saw this and said "Mooss...8 teams is way too few." Which, it is. So I did an all call on Blowout and got 3 guys I interact with a lot to join (and then one random guy). So it should be a fun little league, and I'll probably do a "How did I draft?" recap when the time comes!


Oh yeah...I did have that other baseball league...the one where pretty much everyone quit. How's that going?
Good riddance. I will now never mention it again! *
* Unless I win the championship!