Name:
Brad Banks
Example of Banks on Cardboard:
Brad Banks has 118 cards to his name, all from 2003. Here is his PressPass JE autograph /200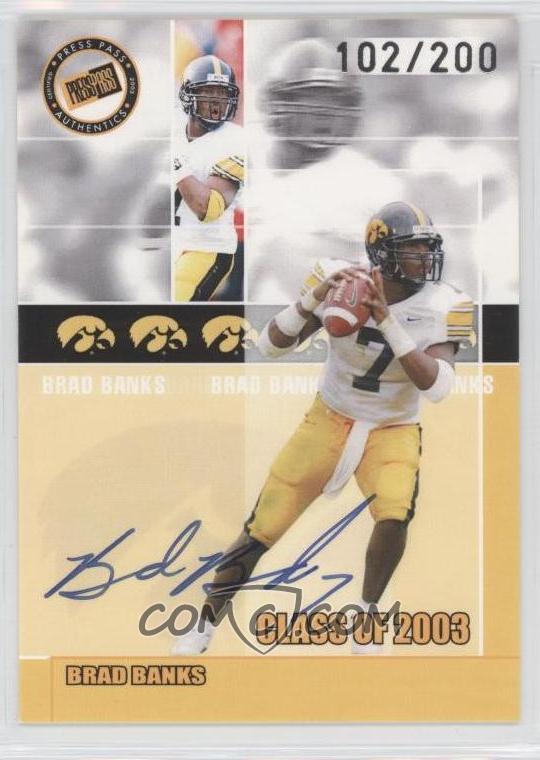 Video:
Here's a little Banks highlight film
Team and Position on Depth Chart in Madden '04:
Banks is a 23 year old rookie free agent. He is the 7th QB from the top with a 60 rating. The top free agency QB is Neil O'Donnell with a 72. Banks is sandwiched by Randy Fasani (60) and Jim Druckenmiller (59).
Some Notable Ratings:
Banks 72 speed is crazy good (top 10 in the whole game as a QB), and his 60 Jump, 74 agility and 70 acceleration all aren't bad.
His 75 throw power and 78 throw accuracy aren't bad either. Bt his 45 awareness kills those throwing stats and is the heart of his 60 rating despite otherwise decent stats.
Professional Career:
2003 was a great year for college QBs in Iowa. Iowa State had my guy, Seneca Wallace, while Iowa had Banks. Wallace was drafted by the Seahawks, but Banks somehow went undrafted, and was picked up by the Redskins in April. Obviously card companies tried to capitalize on Banks' hype by giving him a ton of cards, but by July sources were calling Banks a long shot to make the team and in August Banks was officially released in favor of 7th round pick Gibran Hamdan.
Since his NFL time, Banks played in the CFL from 2004-2009 and in the AFL with the Iowa Barnstormers during the 2011 season.
Why do I remember him?
I liked speedy QBs, and while Seneca was my starter, I needed a backup for when I inevitably got Seneca hurt during a rushing attempt. Banks was the fastest QB in free agency and came very cheap, so I always chose him as my 2nd or 3rd string QB. Over time I started picking two teams each season with Seneca starting for one and Banks starting for the other. The fun part is I never even knew Banks was the QB at Iowa while Seneca was at Iowa State until I got back into cards. It was all about that 70+ speed rating back then, nothing else.