This first card I had never heard of prior to a few months ago. But it's pretty awesome, and possibly the most "valuable" card I grabbed of all the randoms in this lot. On surface glance it's just a Sam Vincent base card, but the bigger story is Michael Jordan in the foreground - This is the only card of his featuring the #12 jersey that he wore for all of one game:
The story goes
that, 90 minutes before game time against the Magic, someone stole Michael Jordan's jersey out of his locker. The Bulls didn't have a backup, so the team briefly went around the arena looking for a replica from a fan that would work for MJ (none of them did). So there were no 23s available, but there was a nameless #12 jersey that the team brought just in case, and Jordan wore it on this night. He proceeded to score 49 points in a loss, and this card depicts that strange game so I'm glad to have it in my collection.
The meat card of this sandwich post is an Isaiah Canaan RC from Panini Prizm:
This card is hugely underwhelming compared to the cards before and after it here, but I love Canaan's style of play ever since he moved to the 76ers late last season. Lots of 3 pointers, lots of pizazz - I just had to have a card of this guys after seeing him play a few times, and I thought this was a nice one to go with for the collection.
The final rookie card here, and the only baseball card among the randoms, is a card of the amazing, the wonderful, Pete Harnisch. Aka PETE HARSHNISH: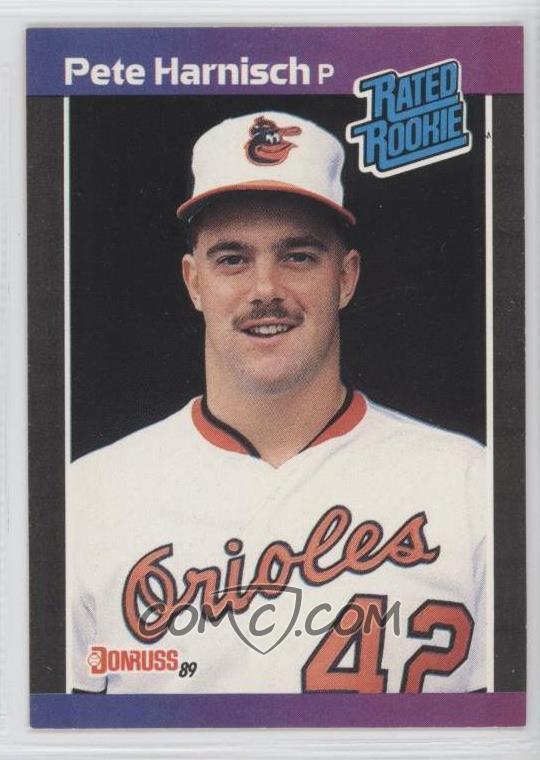 RATED ROOKIE! Basically I'm a millionaire now you guys.

Thus ends the random cards from this purchase. From here on out it's pure PC stuff. AWWWW YEAAAAH BABY!