Name:
James Wofford
Example of Wofford on Cardboard:
James Wofford has 3 cards to his name, all versions of his 2002 Leaf Rookies and Stars base. Here's a copy from
COMC.com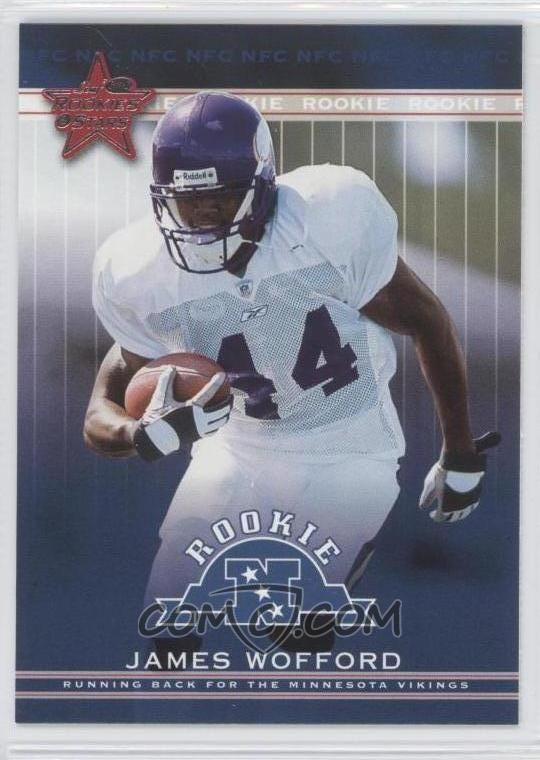 Video:
No video to be found. I did find that the most famous James Wofford is a horse jockey. There's also a James Wofford with dreads who lives in my county and has been arrested a few times - not the same guy though, he's way too young.
Team and Position on Depth Chart in Madden '04:
Wofford, 25, is 5th on the Vikings RB depth chart. Only four guys fit into the depth chart, so it's kind of amazing he even made the team for this game. Ahead of Wofford are Michael Bennett (86), Moe Williams (74), Onterrio "Whizzanator" Smith (67), and Doug Chapman (65).
Some Notable Ratings:
Wofford is a 53 overall, the 2nd lowest ranked RB in the game (worst is Shyrone Stith). His 80 acceleration and 62 break tackle ratings are okay. But everything else is bad, from his 80 speed to 35 awareness to 58 carry (basically an instant fumble at that point).
Professional Career:
Wofford was undrafted out of UNLV in 2001 by the Vikings, and was one of the team's final cuts to get to 53 players. He was re-signed in January of 2002 and received high praise from coach Mike Tice, who called Wofford "probably the best pure RB on the roster." Injuries and competition set Wofford back though, and while he was rostered in 2002 he did not see any meaningful playing time despite being in nine games. He hung around during the preseason in 2003, but eventually lost the final RB job to Larry Ned, and never saw an NFL roster again.
Here are his preseason stats year by year, which show a decline over time:
2001 - 23 carries for 101 yards, 1 catch for 8 yards
2002 - 26 carries for 57 yards, 1 tackle, 1 fumble recovered (he played a bit with Shaun Hill, aka the opening day starter for the Rams this year - stunned that guy is still around!)
2003 - 10 carries for 14 yards, 1 other carry for 6 yards erased by penalty
Why do I remember him?
I loved picking guys with low ratings and guys with dreads - Wofford had both going for him. He usually was the third down or goal line back for my teams with Shyrone Stith, as he is a little better than Stith in the game (mainly due to his +4 speed).