Some caveats: It's NOT a Seneca Wallace card. It IS a football card. And yes it's a patch card, and a fantastic one at that, but the story behind the patch is about as good as the patch. Allow me to explain a bit before I get to the good stuff!
As many of you know, I'm a big fan of Jaguar Logo Patches.
On the typical older Jaguar jersey
, their logo patch appears on both upper arms, and is a full bodied Jaguar like so (I say older because their current jerseys don't seem to always have this patch anymore):
The helmet gets a different logo - instead of the full cat they just do a closeup of the head:
The real neat thing is that sometimes the closeup of the head gets to be on the jersey too. I haven't done an all encompassing look at Jaguar jerseys, but I do know that the 2000 and 2001 Pro Bowl jerseys for the Jaguars had that head on their jersey. In the 2000 Pro Bowl, the Jaguar Head Patch replaced the AFC logo on the right upper arm.
While the 2001 Pro Bowl jersey had Jaguar Head Patches on top of each shoulder.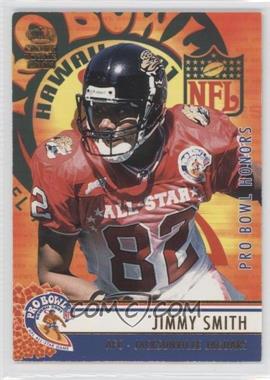 Now a lot of you right now are probably like okay, thanks for the history lesson Mooss. A few more of you might be curious why I showed two pictures of
Jimmy Smith
. Well, it's because the patch I have is his. It's a piece of the Jaguar ear area from his 2000 Pro Bowl uniform.
Here's a bigger view of the ear area:
This is basically what my swatch looks like:
Here's the swatch itself:
And here's the card, #'d 02/25:
It looks a little more orange-y than the typical Jaguar head, and it is. But it also appears darker because the Jaguar Head is on a red uniform patch, and some of those red threads are visible with the card in hand. In general this is a card that looks way better in hand, as the black mass that is the outer ear is tons of fine stitching in person and looks absolutely terrific.
Now I said the story was about as good as the patch, and here's why. This patch is specifically from the jersey Jimmy Smith wore in the 2000 Pro Bowl, which means it is the only Jaguar ear patch from that jersey since there's only one head on that jersey (if you see above, the left shoulder is the AFC logo). That's already neat enough - the only patch of its kind of a specific player from a specific game. But it gets BETTER. See, in that game, a 51-31 NFC triumph,
Jimmy Smith set the record for most touchdowns in a game with 3 on 8 catches
.
His first was a 5 yard grab from Jaguar teammate Mark Brunell, his second a 21 yard pass from Peyton Manning, and his third was a 52 yard (longest of the game) bomb from Manning
. That record stood until Brandon Marshall's 4 touchdowns in last year's laugher. Smith also had the record for most career Pro Bowl touchdowns with 5 until Tony Gonzalez eclipsed that number with his 6th TD catch in 2011 and Larry Fitzgerald scored his 5th, 6th, and 7th in 2012. I know it's a goofy game, but those are still pretty impressive numbers from Smith IMHO. And the patch I have is the only one of its kind from a game where the player set an NFL record and had one heckuva game - not too shabby at all.
So the quality of the patch and the quality of the game the patch comes from gives this card all sorts of awesome qualities, but then the icing on the cake personally is that Jimmy Smith was a favorite WR of mine growing up. For some reason my little brother became a Jaguars fan at one point when he was like 6, and through him I came to appreciate the tremendous Jaguar duo that was Smith and teammate Keenan McCardell. For six years they dominated the AFC receiving ranks and struck a lot of fear into opposing defenses.
As good as McCardell was (he made the Pro Bowl in 1996), Smith was even better, heading there every year from 1997 to 2001. He was also twice an All Pro, led the league in receptions in 1999, and finished a two time Super Bowl Champion (ironically his first 2 years when he was an injury riddled backup WR for the Cowboys and before he showed his future greatness). Smith finished his career with a ton of Jaguar records (most receptions, most receiving yards, most receiving touchdowns) and a few NFL records (most consecutive games with 5+ receptions, most games with at least 49 yards receiving in a season). He finished his career 15th all time in receptions and 16th all time in receiving yards, arguably worthy of a place in Canton someday.
And that is what makes this one of the best cards in my collection. Great patch, great game behind the patch, great player behind the game. I hope you'll agree that it looks fantastic, and I know I'll be hanging on to this patch for a long time to come!